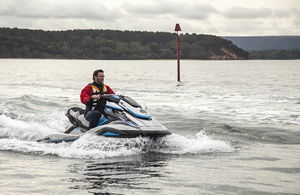 Anyone caught riding a jet ski recklessly or causing harm to others in the UK could now face up to two years in prison and an unlimited fine, thanks to a change in the law.
The Maritime and Coastguard Agency will be given more powers to prosecute as the government works to ensure UK waters remain some of the safest in the world.
The new law will take effect on March 31, before the busy summer term and will allow boat users to be prosecuted and subject to the same laws that apply to boats to help prevent accidents.
This follows a boom in the boating industry during the pandemic, with the number, size, power and availability of boats such as personal watercraft increasing, and their use in UK waters increasing significantly.
Maritime Minister Baroness Vere said: "The boating industry is thriving and it's great to see more and more people enjoying leisure activities. However, they must do so safely."
"That is why we are introducing a new law to crack down on any dangerous misuse of vessels like personal watercraft. It will grant the Maritime and Coast Guard Agency greater power to prosecute those responsible for causing totally preventable accidents or tragedies.
"We will continue working so that the coasts and waters of our country are safe for everyone."
coins
coins
coins
coins
coins
coins
coins
coins
coins
coins
coins
coins
coins
coins
coins
coins
coins
coins
coins
coins
coins
coins
coins
coins
coins
coins
coins
coins
coins
coins
coins
coins
coins
coins
coins
coins
coins
coins
coins
coins