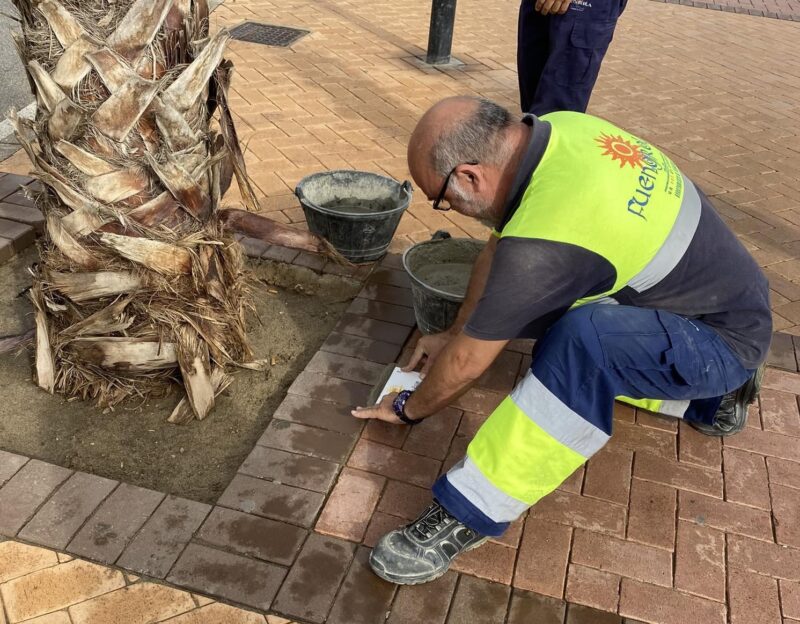 A council worker installs a plaque at the base of a tree with the name of a local child as part of an environmental initiative. Photo credit: Fuengirola Town Hall (by email)
An environmental initiative to encourage respect for the environment among the youngest in Fuengirola has reached a monumental milestone. Authorities announced that the thousandth child plaque had been installed next to a tree in the city.
The 'One Child, One Tree' project was launched in 1996 and aims to create a special bond between children and nature by giving children participating in the program their own tree. The aim of the plan is to encourage the city's younger generation to respect and care for their local environment.
Each tree bears a plaque at its base showing the child's name, date of birth, and the location of the tree. Parents can request a plaque for their children by registering online or at the City Council's Environment Department.
The milestone was announced by the Councilor for the Environment, Antonio Carrasco, on Friday, January 20, after 39 new applications were made since the start of 2023. Carrasco encouraged parents to join the program and gift their children with this " precious memory".
coins
coins
coins
coins
coins
coins
coins
coins
coins
coins
coins
coins
coins
coins
coins
coins
coins
coins
coins
coins
coins
coins
coins
coins
coins
coins
coins
coins
coins
coins
coins
coins
coins
coins
coins
coins
coins
coins
coins
coins