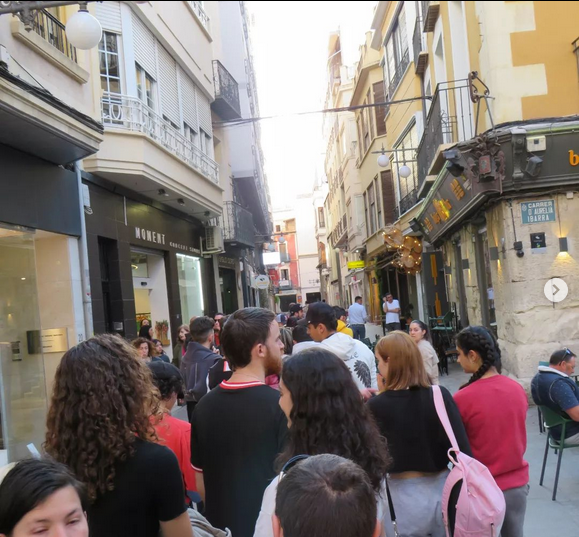 Crowds flocked to the Aires Burger Bar in Elche after the restaurant launched a campaign offering free burgers to the first 1,000 people through its doors. Photo credit: salvapachecosabater (via Instagram)
ELCHE was abuzz with emotion on Wednesday, March 15. A seemingly endless queue had snaked past Glorieta, stretching more than 200 meters through the center of the city. The queue was made up of people of all ages, from retirees to teenagers, all united in pursuit of one thing: a free burger from Aires Burger Bar.
The restaurant launched an unusual publicity stunt, offering 1,000 free burgers to the first people through its doors on Hospital Street. The advertising move was designed in part to put the new burger joint on the map after they recently moved from being based out of a tapas bar.
The restaurant's representative, Luciano Todarello, shared the thought process behind the unconventional scheme saying, "We did it because we're crazy! We wanted to do something different, stand out from the crowd and make an impact. Giving away 100 free burgers is great, but giving away 1,000 burgers is ten times better."
Despite some initial concerns, turnout was phenomenal. By 10:30 pm, more than 1,000 burgers had been delivered, leaving satisfied customers with full stomachs and big smiles.
coins
coins
coins
coins
coins
coins
coins
coins
coins
coins
coins
coins
coins
coins
coins
coins
coins
coins
coins
coins
coins
coins
coins
coins
coins
coins
coins
coins
coins
coins
coins
coins
coins
coins
coins
coins
coins
coins
coins
coins