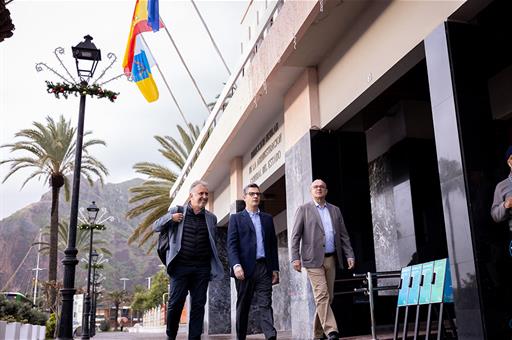 The Minister of the Presidency, Félix Bolaños, traveled to La Palma on Friday, January 20, to chair a new Mixed Commission for the Reconstruction, Recovery and Support of the island, together with the President of the Government of the Canary Islands, Ángel Víctor Torres.
The meeting served to take stock of the progress that has been made by all the administrations in response to the consequences of the volcanic eruption and to continue advancing in the island's reconstruction policies.
The Government of Spain has confirmed that it has already mobilized €500M in aid, which has benefited more than 24,000 people, families and companies. Adding the contributions of the Government of the Canary Islands and the Government of the Cabildo, the figure rises to €670M, which represents an unprecedented mobilization of resources in the Spanish Administration, explained Bolaños.
The Government approved last December a Royal Decree-Law, which will be validated next week in the Spanish Congress of Deputies, to extend the moratorium on loans, ERTES and unemployment benefits, and to adjust aid for loss of housing so that the widows who were can access them the usufructuaries, but not the owners, of the houses affected by the eruption.
coins
coins
coins
coins
coins
coins
coins
coins
coins
coins
coins
coins
coins
coins
coins
coins
coins
coins
coins
coins
coins
coins
coins
coins
coins
coins
coins
coins
coins
coins
coins
coins
coins
coins
coins
coins
coins
coins
coins
coins