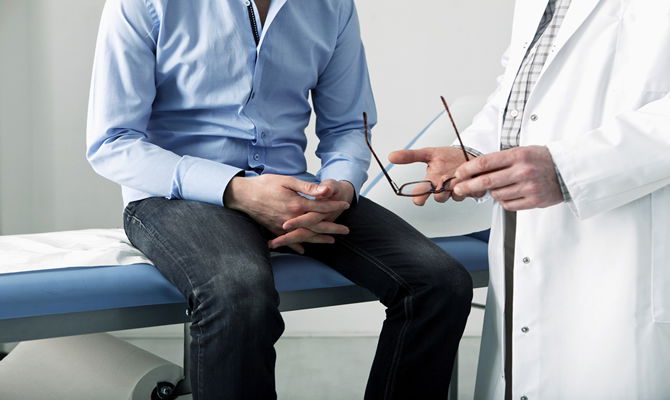 Image of doctor with prostate cancer patient. Credit: Image point Fr/Shutterstock.com
A famous
injectable medication used to treat
prostate cancer in Spain has been withdrawn from pharmacies by the Spanish Medicines Agency (AEMPS).
The Spanish Medicines Agency (AEMPS), warned this Friday, March 17, the withdrawal from the market of a batch of an injectable drug used to treat prostate cancer in Spain.
With an incidence in Spain of more than 27,000 new cases each year, it is the most frequent tumor among men and the third most deadly. It is estimated that one in four men will develop prostate cancer at some point in his life.
In his statement, the AEMPS reported that the affected drug is Gonapeptyl Depotel injectable treatment. The defective batch has the identification code U12671F, with an expiration date of December 31, 2024. This medicine is manufactured in Switzerland by Ferring International Center SA.
The reason that led to the order for its withdrawal from the shelves of pharmacies was the possible 'lack of sterility of the injection needle'. All distributed units of the affected batch of Gonapeptyl Depot 3.75 mg powder and solvent for suspension for injection have been withdrawn from the market, the Ministry of Health explained. They will be returned to the lab through the usual channels, he added.
The quality defects of medicines are classified into three categories (1, 2 and 3) by Aemps. The first one corresponds to a higher risk, class three being the one with the lowest risk. In this case, the AEMPS has indicated that it is a class one defect, the highest category of severity.
Gonapeptyl Depot contains triptorelin, as triptorelin acetate, a medicine that belongs to the group of so-called GnRH analogues. One of its actions is to decrease the production of sex hormones in the body, which makes it possible to treat hormone-dependent locally advanced or metastatic prostate cancer, according to reports elespanol.com.
In Spain, this medication can also be prescribed to women to suppress ovarian hormone levels. This is meant to reduce the size of the uterine fibroids. Commonly known as fibroids, these are non-cancerous tumors that arise from the myometrium, the smooth muscle layer of the uterus. It is also used to treat endometriosis, the presence of uterine tissue outside the uterus.
Finally, it can also be used for the treatment of central precocious puberty when it occurs prematurely, causing the physical and hormonal changes typical of normal puberty. As a result, it is possible to delay sexual development in girls under 9 years of age and in boys under 10 years of age until they reach the biological age for it to occur naturally.
It is supplied with two injections, one of powder for suspension for injection and the other pre-filled with solvent, which will be injected by healthcare professionals on an outpatient basis. Long-term treatment consists of an injection every four weeks on average.
Since it interferes with the production of sex hormones, side effects are common and severe. In men, low testosterone levels can cause impotence, decreased libido, hot flashes, bone pain, and difficult and painful urination.
In women, side effects include decreased libido, mood swings, sleep disturbances, hot flashes, abdominal pain, bone pain, excessive sweating, vaginal bleeding/spotting, vulvovaginal dryness, painful intercourse, painful menstruation, ovarian enlargement, pelvic pain, weakness, and headaches
__________________________________________________________
Thank you for taking the time to read this article. Remember to come back and check The weekly euro news website for all your up to date local and international news and remember, you can also follow us on Facebook and instagram.

coins
coins
coins
coins
coins
coins
coins
coins
coins
coins
coins
coins
coins
coins
coins
coins
coins
coins
coins
coins
coins
coins
coins
coins
coins
coins
coins
coins
coins
coins
coins
coins
coins
coins
coins
coins
coins
coins
coins
coins