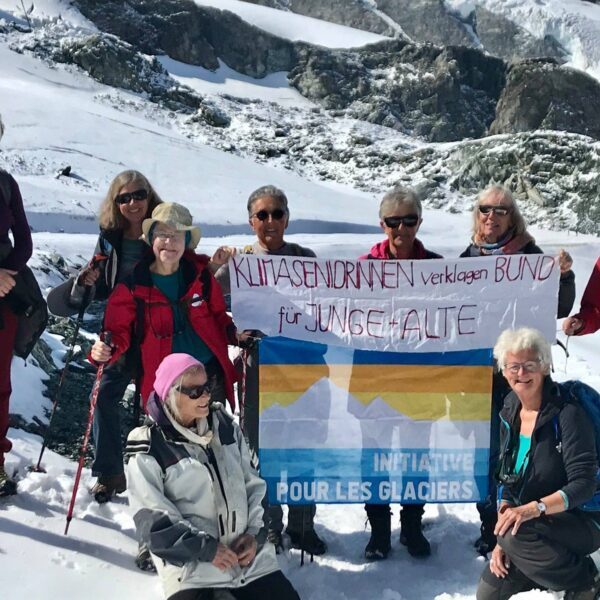 The women of the Swiss activist group KlimaSenniorinnen argue that their human rights have been violated by the lack of climate action policies in their country. Photo credit: KlimaSeniorinnen (via Facebook)
YOUNG climate activists often make headlines across Europe, but a group of older women activists are making waves as they prepare to sue the Swiss government for inaction on pressing climate issues. KlimaSenniorinnen is taking its case against the Swiss authorities before the European Court of Human Rights.
At a hearing scheduled for Wednesday March 29, the group of older women will travel to Strasbourg to have their case heard. Their lawsuit accuses the Swiss government of violating their human rights by not doing enough to combat global climate change by reducing carbon emissions.
2,038 members, all over the age of 64, are filing the case along with four other women, all over the age of 80, who are named in the lawsuit as individual plaintiffs. The case will be the first climate change lawsuit to be heard before the influential European court.
The women of KlimaSenniorinnen will be supported by their own legal team and Greenpeace Switzerland during the hearing. His lawyers are expected to argue that Switzerland has violated articles two and eight of the European Convention on Human Rights.
coins
coins
coins
coins
coins
coins
coins
coins
coins
coins
coins
coins
coins
coins
coins
coins
coins
coins
coins
coins
coins
coins
coins
coins
coins
coins
coins
coins
coins
coins
coins
coins
coins
coins
coins
coins
coins
coins
coins
coins