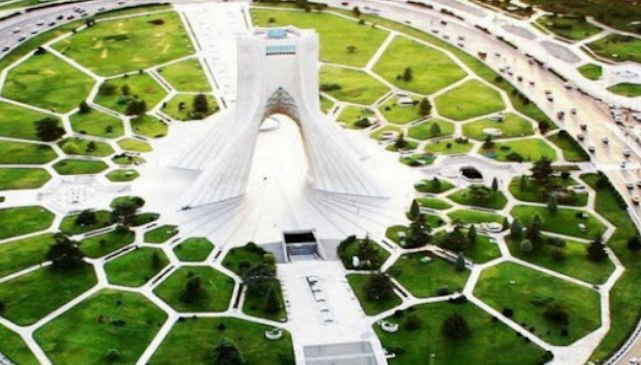 An Iranian couple who danced from the famous Azadi Tower in Tehran has been sentenced to 10 years in prison.
According to a report today, Tuesday, January 31, an Iranian couple received a 10-year prison sentence for dancing in front of a prominent venue in the country's capital, Tehran.
This was announced by the US-based Human Rights Activists News Agency (HRANA). A video of Astiyazh Haghighi and her fiancé Amir Mohammad Ahmadi, which went viral after being posted online last November, showed the young couple having a romantic dance in front of the Azadi Tower (Freedom).
In the images, it can be seen that Haghighi was not wearing the mandatory headscarf of the Islamic republic. According to the country's strict laws, women are not allowed to dance in public. Dancing with a man in public is an even more serious offense.
According to HRANA, Ahmadi and Haghighi were later arrested and appeared before a revolutionary court in Tehran. The judge sentenced them both to 10 years in prison each, along with an internet ban. Their sentence also prohibits them from leaving Iran.
They were charged with: 'fostering corruption and public prostitution', as well as 'gathering with the intent to disturb national security', HRANA said, reported dailymail.es.
Citing family sources, the organization stated that both detainees had been deprived of lawyers and that all requests for bail had been rejected by the authorities. According to them, Haghighi is currently being held at the notorious Qarchak Women's Prison, located on the outskirts of the capital city.
Ayatollah Ali Khamenei, the supreme leader of the Iranian republic, has recently clamped down on all perceived dissent. The Iranian regime has had to deal with waves of protests across the country since the death in custody last September of 22-year-old Mahsa Amini. Women have become accustomed to appearing in public without their headscarves as a sign of protest.
__________________________________________________________
Thank you for taking the time to read this article. Remember to come back and check The weekly euro news website for all your up to date local and international news and remember, you can also follow us on Facebook Y instagram.

coins
coins
coins
coins
coins
coins
coins
coins
coins
coins
coins
coins
coins
coins
coins
coins
coins
coins
coins
coins
coins
coins
coins
coins
coins
coins
coins
coins
coins
coins
coins
coins
coins
coins
coins
coins
coins
coins
coins
coins