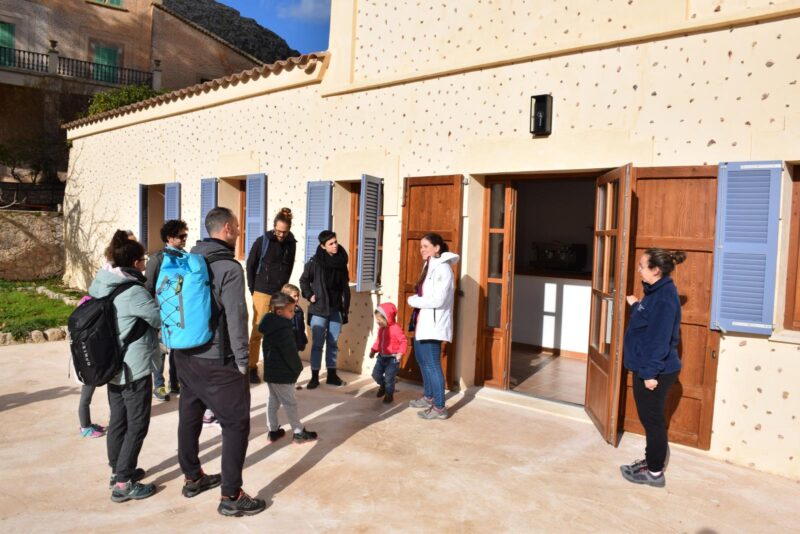 The councilor, Aurora Ribot, receives the first visitors to the mountain refuge this weekend. Caption: Majorca Provincial Council
MALLORCA's largest hiker's refuge opened its doors for the first time on Wednesday 25th January, offering walkers a respite from the challenges of the island's challenging terrain.
The new Galatzó hostel has an interior of more than 1,100 square meters, which is divided into more than 12 different dormitories with more than 50 beds in total. The building also has kitchen and dining facilities, bathrooms with showers and a common space.
The authorities rehabilitated the old Porqueres de Galatzó building to create the largest refuge for hikers in all the Balearic Islands.
Interested walkers were able to wander into the shelter on Saturday 1 January, as Councilor for Sustainability and the Environment, Aurora Ribot, toured the facilities during an open house.
The hikers' hideaway is likely to be popular, especially during the summer when thousands of walkers head to the mountains of Mallorca to discover more of the island from a different perspective.
As with other shelters and lodges run by local authorities, staying at the shelter will cost just €14 per night for adults and €9 for children.
coins
coins
coins
coins
coins
coins
coins
coins
coins
coins
coins
coins
coins
coins
coins
coins
coins
coins
coins
coins
coins
coins
coins
coins
coins
coins
coins
coins
coins
coins
coins
coins
coins
coins
coins
coins
coins
coins
coins
coins