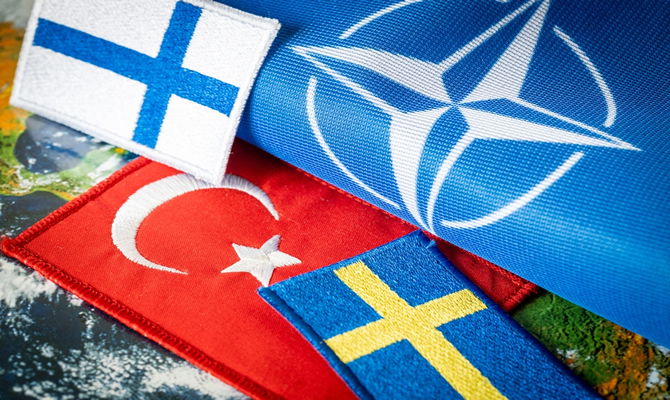 Image of the Turkish flag next to the Finnish and Swedish flags, credit: Andrzej Rostek/Shutterstock.com
At the request of Turkey, negotiations on the entry of Sweden and Finland into NATO have been suspended.
Negotiations between Ankara, Stockholm and Helsinki on the accession of Sweden and Finland to NATO, which were scheduled for February, have been postponed. This was reported to TASS on Tuesday by a diplomatic source in Ankara.
"The negotiations scheduled for February with Sweden and Finland within the tripartite mechanism for their entry into NATO were postponed," the agency's interlocutor reported to the outlet.
He Sabah newspaper reported that the trilateral talks were suspended indefinitely. Finnish Foreign Minister Pekka Haavisto further He suggested that negotiations between Sweden and Finland with Turkey to join the North Atlantic Alliance would be suspended for several weeks.
On Saturday the 21st, Rasmus Paludan, leader of the far-right party Hard Course, held a rally in front of the Turkish embassy in Stockholm with a public burning of the Koran. In his speech, he criticized NATO, Turkey and its president Tayyip Erdogan, and showed a caricature of the Prophet Muhammad.
erdoğan saying yesterday, Monday the 23rd, that Sweden should not wait for Ankara to support its NATO candidacy after the anti-Turkish protests in Stockholm. Turkish Foreign and Defense Ministers Mevlut Cavusoglu and Hulusi Akar spoke similarly earlier.
Sweden and Finland applied to join the North Atlantic Alliance in May 2022, Turkey subsequently blocked the process, demanding that they declare Kurdish organizations as terrorists and extradite people accused of terrorism or involvement in a coup attempt in 2016.
On June 28, in Madrid, before the start of the NATO summit, negotiations were held between Erdogan, the President of Finland, Sauli Niinisto, the then Prime Minister of Sweden, Magdalena Andersson, and the NATO Secretary General, Jens Stoltenberg. A memorandum was signed allowing Stockholm and Helsinki to join NATO.
Ankara previously stated that this memorandum was not final and that the Turkish parliament might not approve it if the two countries fail to fulfill the obligations enshrined in it to counter terrorist organizations.
__________________________________________________________
Thank you for taking the time to read this article. Remember to come back and check The weekly euro news website for all your up to date local and international news and remember, you can also follow us on Facebook Y instagram.

coins
coins
coins
coins
coins
coins
coins
coins
coins
coins
coins
coins
coins
coins
coins
coins
coins
coins
coins
coins
coins
coins
coins
coins
coins
coins
coins
coins
coins
coins
coins
coins
coins
coins
coins
coins
coins
coins
coins
coins