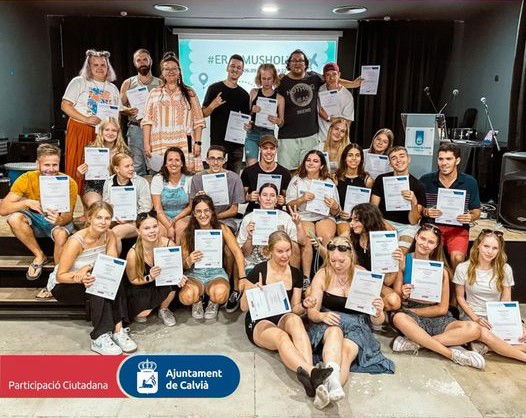 Calvia will participate in Erasmus+, the European youth education exchange, sending students to study in Europe and hosting a group in December. Photo credit: Calvia Town Hall (via Facebook)
As well as being an idyllic place to live, Calvia offers fascinating study opportunities, which has been recognized by the council leaders in the decision to develop a new partnership with the Erasmus+ educational programme.
Calvià town hall announced that 38 young people from the city will participate in Erasmus+ educational exchanges in 2023. Young people have the opportunity to travel to two different European destinations for Erasmus+ experiences before the city welcomes its own group of students.
The council announced its participation in Europe's largest educational exchange program at a conference on Tuesday, January 24, saying the city will participate in a cycle of three exchange events.
During the first event, 38 Calvia students will travel to Hollola in Finland in February for a nine-day project investigating the sociological similarities and differences between Finland and Spain. The second project will have students participate in a multiculturalism project in Besançon, near the French Alps, in July.
The educational cycle will close in December with Calvia welcoming students from all over Europe for another multicultural program.
coins
coins
coins
coins
coins
coins
coins
coins
coins
coins
coins
coins
coins
coins
coins
coins
coins
coins
coins
coins
coins
coins
coins
coins
coins
coins
coins
coins
coins
coins
coins
coins
coins
coins
coins
coins
coins
coins
coins
coins